Regular price
Sale price
$38.00 USD
Unit price
per
Bundle & Save
Sold out
Formulated with premium botanical oils, this indulgent serum rekindles silky radiance and self-love when poured onto skin.
Details

WHAT'S INCLUDED

Each refill comes with 4.2 oz of serum, 1 lead-free cotton wick, wick centering tool, and 1 warning label.

The refill packaging is made of compostable, plant based material (corn starch).

(PLEASE NOTE: Glass is not included)

____

THE EXPERIENCE

Feel loved | A mindful unwind ritual that pampers the body, inspiring self-love. 

Feel radiant | silky radiant skin formula, restoring confidence.

Feel connected | a sensual ambience, provoking intimacy.
____

THE FORMULA

Face-grade body care | organic botanical oil blend infuses your skin with fatty acids, antioxidants, vitamins and minerals.

Anti-aging formula | improves firmness and elasticity, evens tone and texture, combats dryness and dehydration.

Elevated fragrance | aromas meant to be worn and designed by fine fragrance perfumers.

Deeply nourishing heated application | the serum warmth promotes deeper and longer lasting nourishment.
Ingredients

Caprylic/Capric Triglyceride (MCT)*, Camellia Oleifera Seed (Camellia) Oil*, Orbignya Oleifera (Babassu) Oil*, Simmondsia Chinensis (Jojoba) Seed Oil*, Helianthus Annuus (Sunflower) Seed Oil*,  Olea Europaea (Olive) Oil*, Cera Alba (Beeswax), Argania Spinosa (Argan) Oil*, Fragrance Oil Blend** (unless unscented).
*Certified Organic
**non-toxic, paraben, & phthalate-free

We work with chemists to ensure all our fragrances are clean, safe for skin, and safe to burn.
Usage

USES

30+ uses. Suitable for one regular 4 oz Body Serum Candle container.

___

INSTRUCTIONS

Microwave the refill for 45 seconds.

Pour melted serum into your candle container.

Cool for 2 hours before use.

Light and enjoy.
FAQ

Is there a microwave free option?

Yes, you can melt the serum in a pot of simmering water for about 3 minutes or until fully liquid.

How do I clean a used container?

Soak in hot soapy water to remove the old wick. Once removed, hand wash or place in the dishwasher. Dry thoroughly before placing new wick.

Can I refill any candle container?

We do not recommend this because our materials have been rigorously tested for safety. However if you do, ensure it is 2.25" in diameter, use our wick, and handle the hot container carefully when in use.
View full details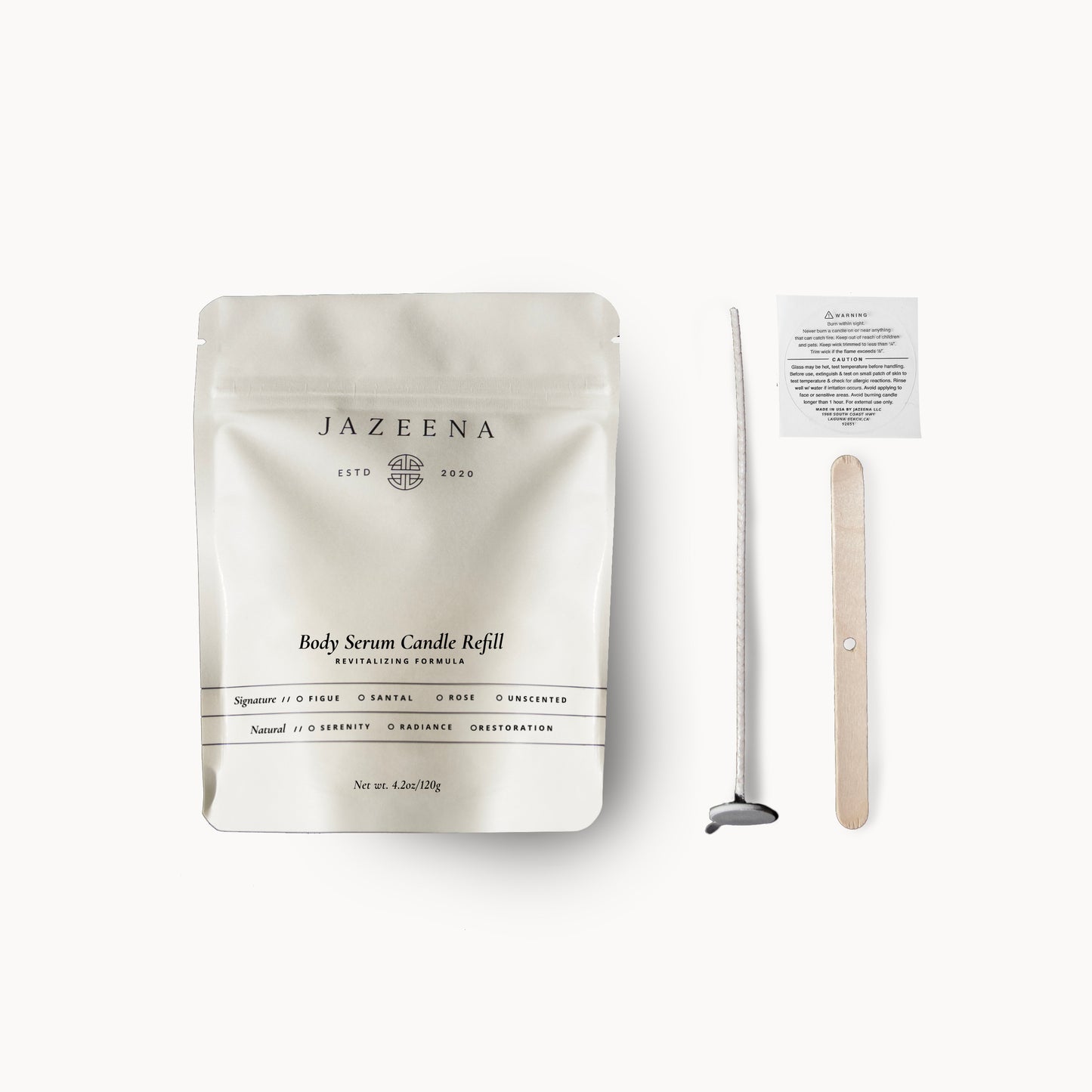 "It leaves me feeling like a moisturized goddess and it smells very soothing. Love is an understatement!"
-Jessica V.
Hero ingredients
Camellia

Provides a powerful blend of vitamins, minerals, antioxidants and fatty acids essential to improving skin elasticity and smoothing wrinkles and fine lines.

Babassu

Due to its healing properties, babassu is used to soothe wounds and reduce the appearance of scars. It is firming, light, and fast absorbing, leaving skin feeling silky smooth.

Jojoba

Hydrates and regulates the skin's oil levels without clogging pores making it ideal for sensitive skin.

Argan

Rich in vitamin E, Argan oil combats free radicals, bacteria and other common skin stressors.